It's that time of year to reflect back and take a bird's eye view of this year's housing market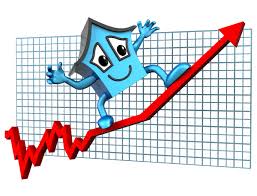 highlights. 2015 started slowly but quickly morphed into a brisk period of spring sales. That vigorous pace continued on into the fall and throughout Thanksgiving. Pre-Christmas house sales continue to bustle at the moment. Here are some points of interest reflecting back on this year:
2015 Remained A Strong Seller's Market. The ratio of homes entering the market vs. homes being sold continued to favor sellers all throughout the year. Housing inventory remained low and did not rise above 3.59 months of inventory. In September the Ridgecrest area hit a low point with only 1.73 months of inventory active on the market. Our housing inventory has not seen these low points and lack of available homes for sale since the housing boom of 2005.
Units Sold Per Month Set New Record Highs. 2015 saw single family homes sales per month rise to 44 in August, 42 in July, 41 in September, and 40 in May and June. This indicates that approximately 45 days previous to these months, buyers were busy seeking, shopping, and signing purchase contracts. The local area has not seen this rise in action since June of 2009. Previous to that was the frenzied boom year of 2005 when prices and sales activity bubbled.
$ Per Square Foot Is Stabilizing. Over the past 12 months the average price per square foot has stabilized in all areas of Ridgecrest: College Heights, Northwest, Northeast, Southwest,

Southeast, and Ridgecrest Heights.This is great news and displays that house values are not taking a dive, nor are they skyrocketing. This is a plus for Ridgecrest and makes homes here very affordable.
Foreclosure Sales Move Forward. The sale of Real Estate Owned (REO) or bank-owned properties continue to appear and then be sold at a good rate. On the average about 10 per cent of all single family homes sold each month were foreclosures. And in 2015, about 10 per cent of all active homes on the market fell into the foreclosure category. Another good sign for stablity.
Homes Selling At List Price Or Above Are Up. One of the most remarkable indicators of a slowly rising local market is that since May, sellers are receiving at least the list price or more for the sale of their homes. The stats are as follows: May 62%; June 52%; July 54%; Aug 50%; Sept 56%; Oct 65%, and; Nov 57%. December is also expected to follow the same trend.

Consideration also has to be made for the number of homes that experienced a price reduction before an offer was presented. These stats clearly indicate that homes with a carefully pinpointed price sold rather quickly in 2015.
More questions about the local housing market? Give me a call, Clint Freeman, at (760) 382-1082 and lets talk!